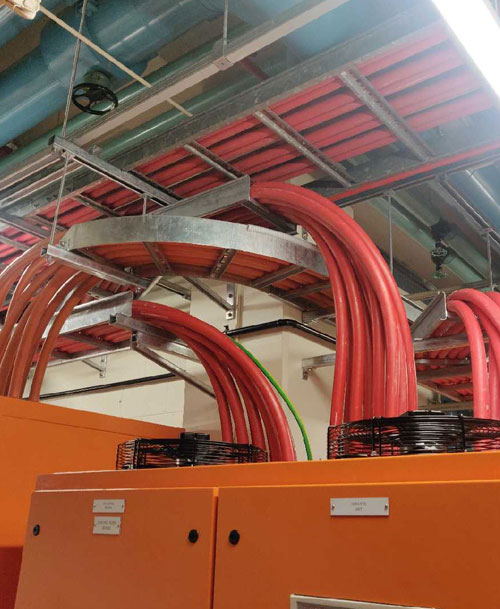 Industrial Electrical Services
SCG's reputation for developing innovative electrical solutions can be attested to by leading Australian businesses in the infrastructure, manufacturing and utility sectors.
Our designs and implementation are focused on specific customer needs with an intuitive and responsive approach to any small or large scale of project.
High-risk environments including switchrooms and work involving boom, scissor lifts, heavy machinery and confined spaces are all managed with confidence and proficiency. Projects under operational time restraints will benefit from our rotating shift work flexibility.
Industrial Electrical Services
New Industrial Design and Installations Works
Client tailored design and construction
HVAC (heating, ventilation and air conditioning)
Lighting and power installations to AS3000
Mechanical systems
Switchboard repairs and upgrades
Exit and emergency lighting to AS2293
Electrical fit-outs
Machine wiring and repairs
Variable speed drives
Switchboard design and installations
Energy management systems
Electric motors, pumps & control panels
Generator installations to AS3010
Refrigeration and cold storage
industrial Electrical Services
Maintenance, Periodic Testing and Repairs
Switchboard thermographic imaging and test reports
Switchboard repairs and upgrades
Power and equipment outlet repairs
Periodic RCD and LPD testing and recording results to AS3760 and AS3003
Emergency escape lighting testing, repairs and reports to AS2293.3
Testing and tagging equipment and recording results to AS3760
Lighting repairs and efficient replacements
Scheduled preventative maintenance
24/7 Emergency Response
LED LIGHTING UPGRADE OFFER

As part of our on-going commitment to cleaner energy and energy saving, we're currently offering 'free recycling and disposal of used light fittings and lamps' for Commercial & Industrial Led Lighting Upgrades

Conditions Apply

COMMERCIAL CCTV PACKAGE OFFER

Keep your workplace safe and secure with the latest in CCTV technology. We're currently offering Commercial CCTV packages to suite buildings of all sizes.

All packages include 'Free setup of remote monitoring on up to 4 devices'
About
SCG Electrical Group are Melbourne based electrical contractors. We specialise in commercial, industrial and high-end residential works.
SCG Headquarters
15 / 120 Talinga Rd,
Cheltenham, VIC 3192