We're working safely...as always! Please see our
COVID-19 Policy
- Case Study -
The Lume
Melbourne Exhibition Centre
A State-Of-The-Art Gallery With Unique Technical Requirements.
Opening in 2021, THE LUME is set to join the ranks of Melbourne's most prestigious art and cultural attractions. Making its permanent home inside the Melbourne Convention and Exhibition Centre, it is not only Australia's, but also the Southern Hemisphere's first purpose-built space to seamlessly animate art at such a jaw-dropping scale.
SCG Electrical Group were proud to be part of such an innovative project and were involved from the outset, working closely with Grand Experiences & Lexon Group during both the design & construction phases to establish a suitable venue.
Key planning considerations included; sufficient mains capacity, AV power reticulation, switchboard & control cabinet design/manufacture, HDBaseT Network Solutions, Lighting, Automation and Access Control.
Our technicians executed the infrastructure build during the first half of 2021. A unique project, 'The Lume' required SCG to implement several of our core services including; essential power, innovative technologies, lighting controls, automation, audio-visual distribution, network solutions, access control, CCTV and security.
Our end-to-end involvement in this next-generation digital art gallery included the Design, Supply & Installation of the following components;
Mains and Switchboards
Light fittings and lighting controls
Evacuation lighting
Essential and non-essential power
AV Distribution Power and UPS's
Socapex AV distribution
Customised Black cable management
Data Cabinets and Patch Bays
Cat6A F/UTP network solution
Access control system
CCTV system
People counting system
ScentAir HVAC Scent Delivery
CLIENT:
BUILDER:
DURATION:
18mths Design & Planning
7mths Onsite Build
PROJECT HIGHLIGHTS
160 x Suspended Projectors
AV Control HUB
Merchandise Area Fitout
Main Entry Facade
Sponsorship & Activities Space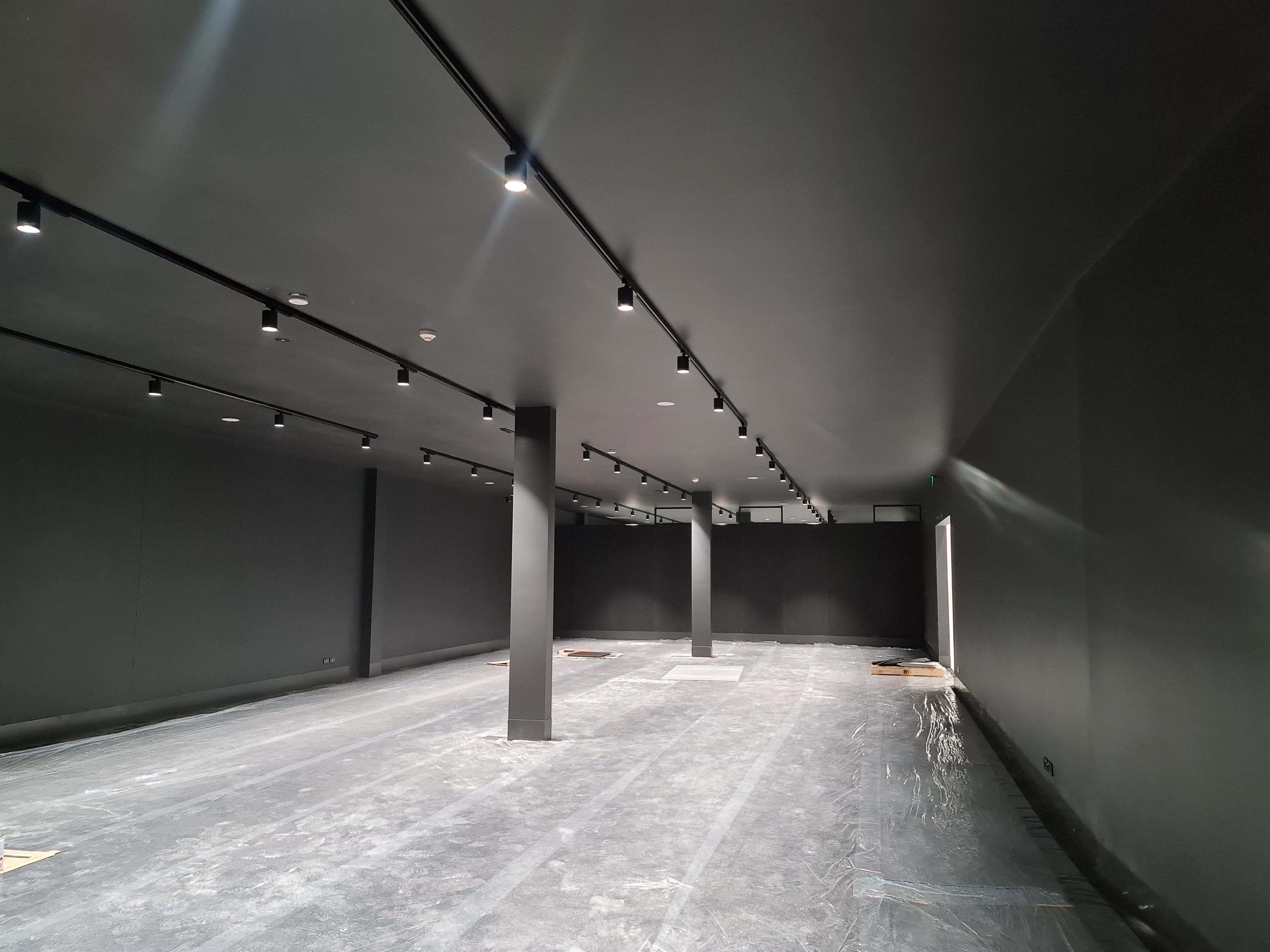 AV Distribution Room
Feature Leds
Cafe Area
*Note - Photography taken during construction phase and does not represent the quality of the finished infastructure.
What The Client Said
"Dean Shipton and his team have been instrumental in the provision and implementation of sustainable energy, technologies and audio visual power solutions to our next generation digital art gallery.
'The Lume' Melbourne, is Australia's first immersive experiential digital art gallery weaving powerful imagery from 150 state-of-the-art projectors. We provided SCG with a design brief and seamlessly they provided solutions to meet our extensive electrical demands and audio visual power requirements."
"A very professional and capable outfit"
- Bruce Peterson
Founder & CEO
|
Grand Experiences
ADDITIONAL GALLERY & PROJECT IMAGERY
*Note - Photography taken during construction phase and does not represent the quality of the finished infastructure.
What The Builder Said
"SCG Electrical Group's commitment to the project from start to finish was fantastic. To work with such a proactive business that is driven and invested in the outcome made the project run smoothly from the minute they were engaged. Their technical aptitude and attention to detail is second to none."
"I would not hesitate to work with the team from SCG again"
- Luke Ross
Project Manager
|
Lexon Group
Please visit the official website for more information about this incredible new experience.
About
SCG Electrical Group are Melbourne based electrical contractors. We specialise in commercial, industrial and high-end residential works.
SCG Headquarters
15 / 120 Talinga Rd,
Cheltenham, VIC 3192